Here are some technical reviews of the earphones we use in our earpods. Just to be clear, these are not reviews of our earpods, they are reviews of the earphones we embed in earbuds as part of making DEEPsound earpods.
SOUNDPHILEREVIEW:
Knowledge Zenith, also known as KZ, gained a lot of notoriety thanks to their cost-effective in-ear headphones and accessories. Their flagship products have been especially sought after in recent months because of their value/price ratio and likeable tuning. Their previous flagship, the KZ ZS5, has been praised for its sound by many, but it also sparked a wave of criticism due to the design being copied from Campfire Audio and a controversial use of drivers. The KZ ZS6 is an evolution of the ZS5 whose housing is made of aluminium and sports grilled vents on the exterior.
Disclaimer: I received a review sample from AK Audio which I will be able to keep. You can buy a unit from them here and get a discount using the code RRO while checking out.
TL;DR: recap
Pros

Cons
Well-built, premium materials for the priceEntertaining tuning, with emphasis on bass and treble

Awesome instrument separation

Terrible comfortStolen design

Cable prone to microphonics
Rating: 8/10
Packaging & Accessories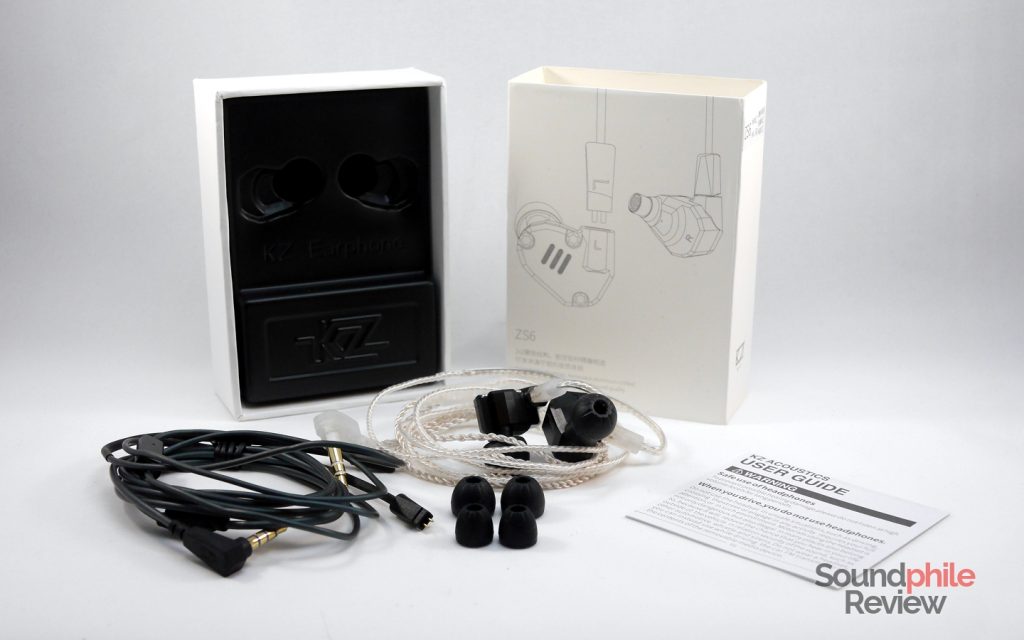 Most other products by KZ come in a cardboard box with a plastic front cover. The KZ ZS6 comes in a cardboard box which slides out from another cardboard box. Inside there are the two earpieces, the cable (with 0.75 mm pins) and three pairs of eartips. A silver-plated (SPC) cable can be bought separately (it was kindly provided by AK Audio).
It's all very simple and the approach is practical and even a bit spartan. No fancy accessories, no nice additions. It's just what you need for a basic listening experience.
Design & Comfort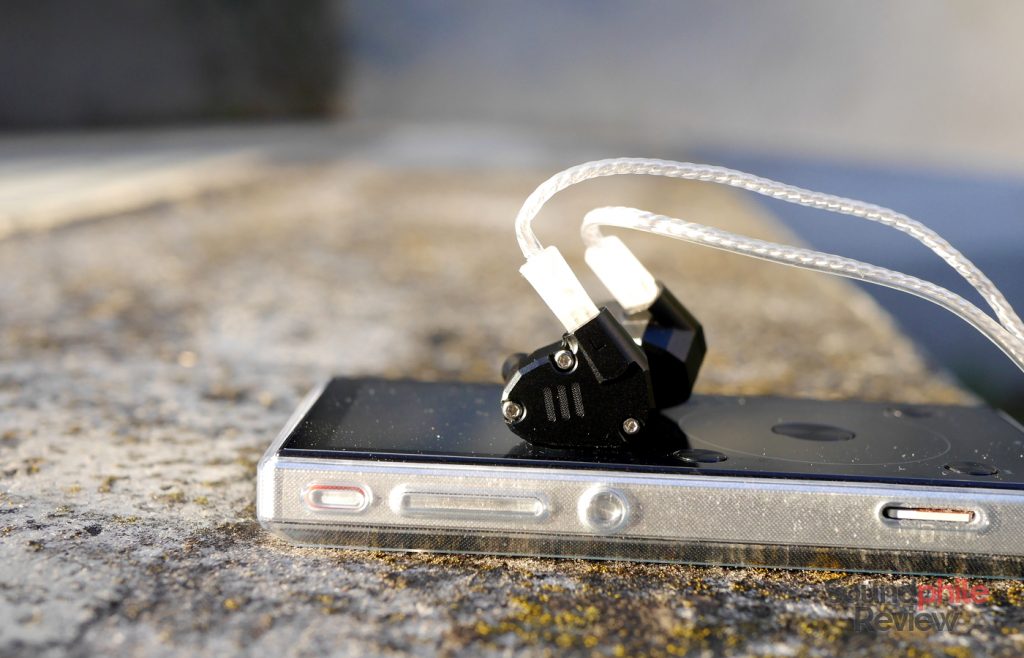 There's no excuse for how KZ ripped the design of the Campfire Audio Andromeda. It's almost a carbon copy, save for the grilles. This comes after a few earphones where KZ had a chance to experiment and make its own design brand, so I wonder why they resorted to copying another company.
The design is very nice, anyway, and the build is good – except for the right receptacle which has a lot of play (I suspect it's because of my unit being faulty and not a general issue, given how the left one is solid, but it should not happen anyway). The housing is made out of aluminium, instead of the ZS5's plastic, and they are sturdy and solid. The cable slides into the receptacle effortlessly and fits perfectly with the earpiece.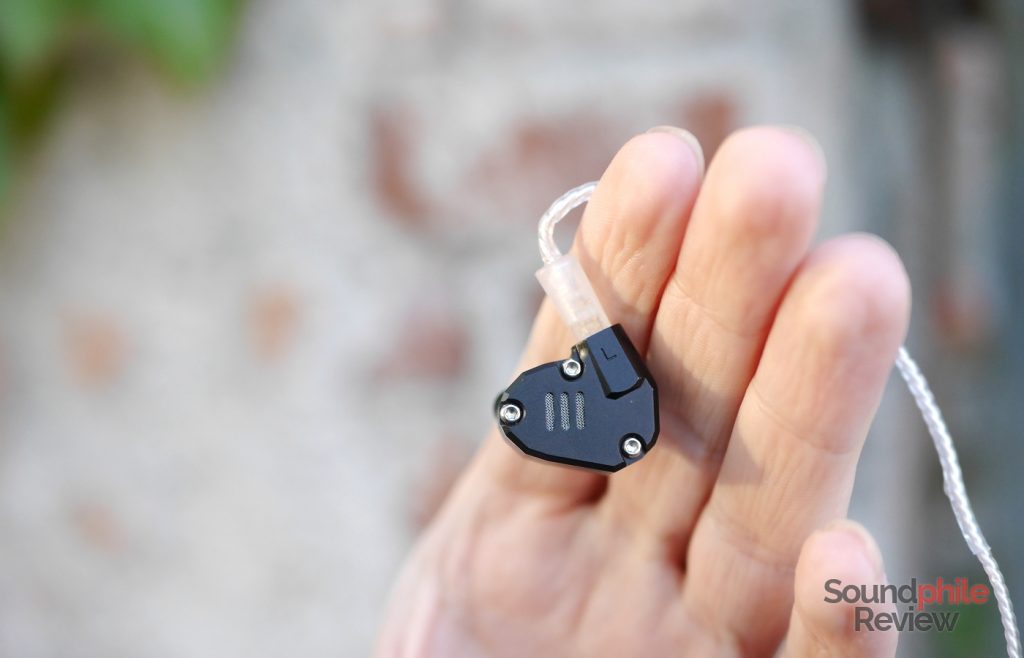 If there's anything the Andromeda design is not good at, however, that is comfort – and the same applies to the KZ ZS6. Comfort is a very subjective matter and making general assertions is always risky, but I do not see how a very large housing with sharp edges could ever be comfortable. My ears scream in agony after just a few minutes wearing the earphones. I can't wear them for more than half an hour, often even less. They are among the worst in-ear headphones I ever tried in terms of comfort, and that's no hyperbole!
It may be a matter of being used to wear them, but it makes me wonder whether using a comfortable design from the start wouldn't have been a better choice (yes, it would). After using them for more than a week, my ears seem to have yet to adapt to them – I will update this review in the future if this ever changes.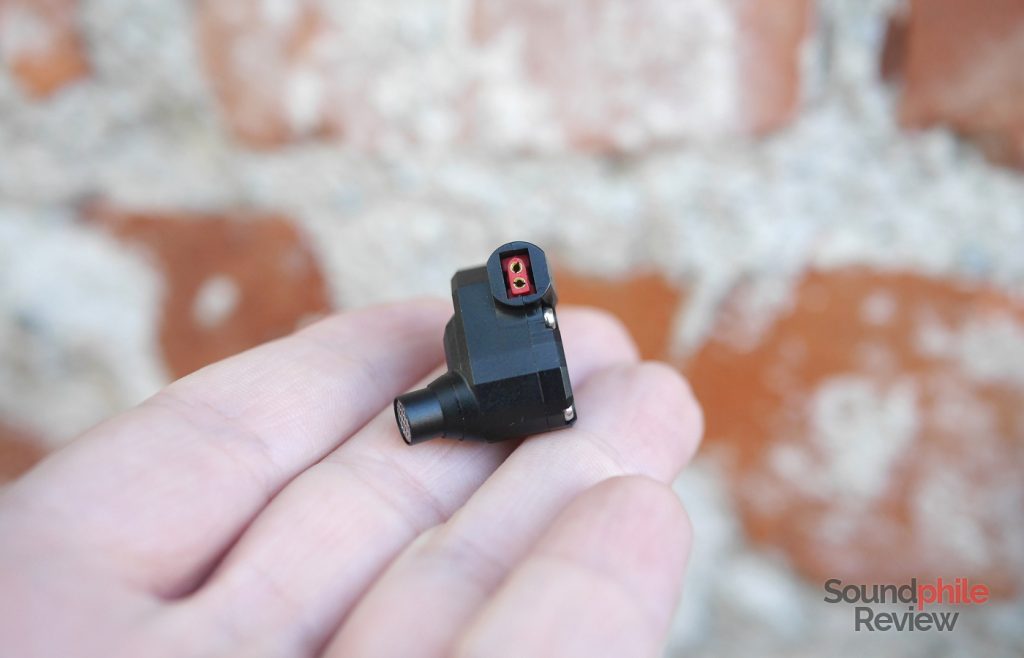 Given the cable is detachable, it can be replaced with any compatible cable on the market with double 0.75 mm connectors. The market is teeming with products and KZ manufactures its very own aftermarket, silver-plated cables. They are made of four woven cables; they're very soft and plastic, a trait which has pros (they're not springy) and cons (they're easy to bend and, I suspect, damage).
The cable is, however, a generic one that does not take the shape of the earpieces in consideration. While it works very well on the KZ ZST or ZS3, the plastic end which houses the two-pins connector is too long and requires you to bend the cable dramatically to have it pass behind your ear pinna. This is subjective, of course, but since I have fairly large ear pinnae I think it could be a problem to those with smaller ones.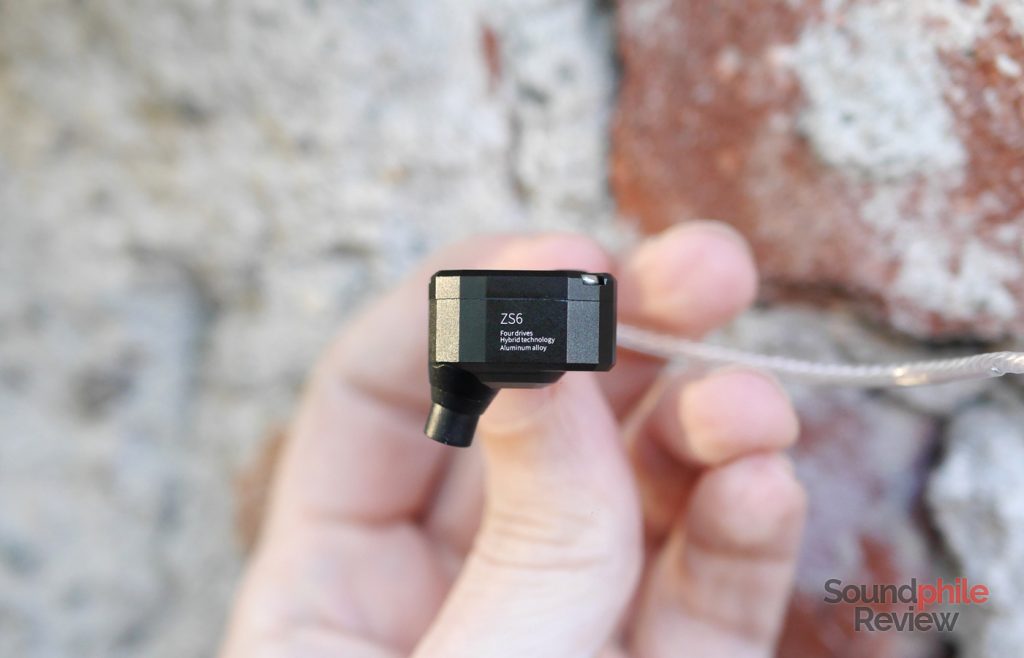 When it comes to isolation, the KZ ZS6 performs poorly even using super-sealing Comply foam tips (more details on them in my article on the best eartips). Wearing them on public transport I could not hear music properly at reasonable volume, and even in quiet environments I was well aware of the surroundings.
Sound & Specs
While testing the KZ ZS6 I used a variety of sources to test them: an Objective2 amplifier fed by a Topping D30 DAC; an Aune M1s; a FiiO X3 III; a Topping DX7; a Lenovo K3 Note smartphone. Files used were FLACs at standard res (16 bit, 44.1 kHz), with a few hi-res FLACs and MP3s (320kbps). The earphones had got 100 hours of burn-in before listening tests were performed.
| | |
| --- | --- |
| Frequency response | 7 – 40,000 Hz |
| Impedance | 15 Ω |
| Sensitivity | 105 dB |
The company is advertising the four drivers nature of the headphones: two dynamic drivers and two balanced armature drivers. The low impedance can be attributed to the presence of the two balanced armatures; given it is 15 Ω, the KZ ZS6 can be easily driven by any source including mobile phones.
Soundstage is intimate, with sound being presented close to the listener. It seems to be similar to the ZST, though it has far better layering: as an example, Russian from Tubular Bells 2003 has layers of guitars which are clearly distinguishable and laid out. Imaging is very good, as you can point to instruments relatively easily.
Instrument separation is different: it's great and it may well be among the best I've heard in sub-50$ in-ear headphones. You can separate each instrument even in very complex tracks (i.e. Finale from the aforementioned Mike Oldfield album, or Massive Attack's Angel).
The KZ ZS6 stands in KZ's traditional sound with powerful lows and elevated treble that makes it V-shaped, though not excessively so. However you look at them, they are not neutral, though the overall tonal balance is pleasant and engaging.
Bass is deep and powerful and it's capable of being very polite but also to show lots of strength when needed. In terms of quantity, it's in a sweet spot where it can take on most genres without sounding excessive, though it does add substantial body to the music. Not only it is deep and rich, but it's also detailed and textured, showing off great control – way better than what I've heard from other headphones in this price bracket. You can listen to Friedrich Gulda's Blues for H.G. from its incredible album As you like it and be amazed at the bass control as much as you can listen to the rage of Perturbator's Tactical Precision Disarray and enjoy how bass is deep and fast.
Mids are accurate and natural, though they seem a tiny bit recessed. They're not as recessed as on V-shaped earphones (i.e. the UBSOUND Fighter), but it is noticeable in crowded tracks. They're fast, though not quite as fast as those on the Venture Electronics Asura 2.0, and this makes them very detailed. They're also very clear, though not especially airy. There seems to be a spike in the upper mids, as they are more pronounced than the rest; this is not, however, due to the natural spike in perception in the 3 kHz range, as they can be even annoying. As a practical example, the sound of fingers sliding on the guitar strings in I skumringstimen by Vàli is almost piercing, while using other headphones (i.e. RHA T20i, Meze 11 Neo) they are not as fatiguing. This is indeed an issue, as the sound can become distracting or annoying.
Treble is going to be disappointing for some. As I previously stated, it's elevated and it's prominent, so you will always notice it and have it almost shoved in your face – which is not too bad, given it is decently detailed and natural. It is extended, but it is not airy and wide – it does not add that airy, breathing feeling to the music as in the T20i, just to make an example. They're dry and super-focused, which may be polarising.
All in all, I would say the KZ ZS6 is not accurate nor ideal for those looking for a reference-class sound, but they are more on the fun side. They're very entertaining and also a good choice for casual listening. The level of detail being portrayed is nothing short of awesome at this price point, and that's the reason why I believe they can be great introductory headphones or a nice addition to any collection. That's also part of why KZ has become so popular lately.
Given the way the KZ ZS6 sounds, my opinion is they can be used for most genres, though they will not excel in those that need reference tuning – while some classical tracks may sound well, as an example, most will not be tuned right. On the other side, rock, metal, pop, electronica and other modern genres where a bit of added low-end strength is welcome sound good.
When comparing the KZ ZS6 to other headphones, I chose the following ones:
Final Thoughts
The only KZ product I had tried before listening to the ZS6 was the ZST, with the ZSE and ZS3 that were delivered to me at the same time (and which I couldn't properly compare the ZS6 to). What I did expect was a nice product with good-but-not-great sound, that would not offer anything truly special. If anything, reading the comments about the ZS5 v2 being terrible, I was expecting the ZS6 to be unremarkable. I must admit the KZ ZS6 is a nice surprise, especially because of its value for the asking price – considering that it is going to fall sharply in the coming weeks, the value will be even larger. They sound way better than their price would suggest and on par with headphones that cost four or five times as much.
What I want to remark, though, is the fact that KZ stole the design from Campfire Audio and got itself in an awkward position with the ZS5 – and this last bit could well be the reason why they pushed the ZS6 to the market so fast. The KZ ZS6 does sound good, but it is up to you to decide if you want to support the company behind it.
SPECTRE LABS REVIEW:
When I first saw the new KZ ZS6 on pre-order sections at a few popular online stores, I immediately got excited. Here was a new set of IEMs in Knowledge Zenith's Z series with a new model number so I assumed it must be something very different from earlier releases from KZ. But when I realized that the ZS6 appears to be nearly identical to the earlier ZS5 with some minor changes here and there, that excitement quickly died out. I assumed the ZS6 was just a marketing gimmick by Knowledge Zenith and that it was nothing more than just a lightly upgraded version of the ZS5.
Nevertheless, I still decided to give the ZS6 the benefit of the doubt and when GearBest offered to send a review sample I obliged. After all, Knowledge Zenith is a brand that has a reputation for surprising us with solid IEM's in the past 1 year releasing, one after another, the ZS3 which was then followed by the ZST and ZS5. Each IEM in the Z-series offered their own distinctive characteristics and each had amazing audio performance so I was really curious to find out what exactly KZ had in store with the new ZS6.
Product Highlights
Design: In-ear with or without built-in microphone and answer button
Driver Unit: 2 Dynamic Drivers / 2 Balanced Armatures hybrid design
Housing: Aluminum with open design
Frequency response: 7Hz-40000Hz
Sensitivity: 105 dB
Impedance: 15 ohms
Cable: 1.2m detachable
Earbuds: 3 sets
Input Jack: 3.5mm stereo
Weight: 26g
When I first received my ZS6, it seemed like just any other Z-series IEM (In-Ear Monitor) from KZ. There are the ear pieces, detachable wires and 3 sets of ear buds in different sizes. Nothing unusual, really, until I put them on and realized this was no ZS5. During the first minute or two of listening to it, it became obvious that the ZS6 was distinctively different from the ZS5 where audio performance is concerned.
Like other Z series IEMs, the ZS6 is available with or without a microphone for hands-free calls. It is also available in three different colors — green, black and red.
Build Quality and Comfort
The ZS6 has nearly identical build quality and comfort to the ZS5. If you've not read my review of the ZS5, you can read it here. The only difference is in the construction of the earpieces which are constructed using CNC-machined aluminum (the ZS5 is made out of plastic). The ZS6 also uses the same over-the-ear wires that help secure the earpieces.
This method of wearing the ZS6 may not appeal to everyone, particularly those who wear glasses. From my experience of using the ZS5, it feels moderately comfortable. I personally feel the ZST and ZS3 feel a lot more comfortable than the ZS6 since the ZS6 does not feature an organic shape but this may just be due to my personal preference.
The three sets of ear buds also feel reasonably comfortable although some owners may resort to upgrading their IEM's with aftermarket ear buds for better comfort, fit and audio performance. At the end of the day, it all boils down to personal preferences and taste.
Audio Quality
As mentiond earlier, the ZS6 has a distinctively different audio performance when compared to the ZS5 although both look visually similar and have the same number of balanced armatures and dynamic drives. When I first tested out my ZS6, it was very obvious that KZ's latest IEM's are better than the earlier ZS5. This revelation took me by surprise as I wasn't expecting much from the ZS6.
Now, i'm not the kind of person who uses complicated and cryptic words to eloquently describe audio quality of earphones just to sound like an informed audiophile. To put it plainly, audio on the ZS6 come across clearer and sharper than the ZS5. Bass is just as punchy as on the ZS5 but seems to be less sloppy and boomy. The ZS6 has a more pronounced "V" audio signature while the ZS5 sounds a little bit warmer. The ZS5 also sounds a bit muffled across all frequencies.
That doesn't mean the ZS5 is a failure. For a pair of IEMs that cost roughly $20, i'd say it has excellent audio performance. It's just that the ZS6 seems to perform on a totally different level where clarity and sharpness is concerned.
I have a feeling that soon after the release of the ZS5, the engineers at Knowledge Zenith decided to take a deeper look into it to see how they can improve on its performance. It may be that they discovered a few things, tweaked around with it and decided to re-release the ZS5 as a new model without even bothering to redesign its exterior. I'm no engineer myself but I think the improvement in audio quality may be the result of using aluminum for the open chamber construction and the repositioning of the balanced armatures.
Like the ZS5, the ZS6 has two dynamic drives (10mm and 6mm) and two balanced armatures for each piece. All four drives cover a wide spectrum in audio frequency. The dynamic drives reproduce sounds in the lower frequencies while the balanced armatures handle high frequencies.
In the ZS5, one balanced armature (BA) is positioned near the nozzle while another one is positioned deeper in the chamber and closer to the two dynamic drives. In the ZS6, both BA's are positioned next to each other near the nozzle. The ZS6 is also an "open" IEM which means it has aluminum chambers that feature grilled vents at the rear to allow air pressure to escape when the drives are operating. This could be the reason why the ZS6 sounds clearer than the ZS5. The chambers of the ZS5 are fully enclosed and there are no vents which may explain why it sounds a bit muffled. Another key difference is the impedance — 15 Ohms on the ZS6 and 8 Ohms on the ZS5 though I'm not too sure how the higher impedance on the ZS6 actually helps it perform better, if at all.
All these subtle changes result in the ZS6 being a very impressive IEM that costs less than $50 but offers performance that is similar to IEM's from big name brands that cost two to three times as much. I've used my ZS6 for listening to music, watching movies and playing games on my smartphone, PC and tablet and it has so far performed remarkably well.
When testing the ZS6, I plug it directly into earphone jacks and do not use any kind of amplifier. I guess this is probably going to be the most typical way how many ZS6 owners would use their IEM's. With an impedance of just 15 Ohms on the ZS6, most devices such as smartphones and laptops that have low-power audio outputs should have no issues delivering reasonably good audio signals to the ZS6.
It's possible that the ZS6 may perform slightly better if used with an amplifier but this review is meant to showcase the ZS6 in its original form sans upgrades. Additional stuff such as amplifiers and aftermarket ear buds and cables may help in delivering better audio on the ZS6 but those are topics for another review which I hope to publish in the near future.
For those who want to make the ZS6 wireless, there are Bluetooth modules that you can replace the cables with. Such modules also have playback and volume control. The KZ ZS6 with built-in microphone is currently available at GearBest for $45.50 shipped. Click here for more details.
Pricing – 85%
Build Quality – 82%
Sound Quality – 96%
Value – 88%
Comfort – 75%
Summary
In some ways, the ZS6 is like a reworked ZS5. In other words, it is what the ZS5 should have been when it was first released. With the ZS6, KZ decided the ZS5 could be improved and did just that — make its most advanced hybrid IEM better. This was done by repositioning one of its balanced armatures and giving the ZS6 an aluminum shell with an open design. The result is an IEM that delivers the best level of audio clarity and detail you can find in KZ's Z series range.
At less than $50 shipped, the ZS6 is something I highly recommend for any audiophile who want impressive audio quality on a tight budget. Its detachable cables also opens the door to various upgrades such as better silver-plated wires and Bluetooth modules.
Pros
Best audio quality of any KZ IEM to date
Offers quality and performance of much more expensive IEMs from big name brands
Detachable cables
Affordable price with excellent value
Cons
Somewhat dull aesthetics
Comfort is not exactly impressive
A Wired.com review of this family of earphones:
A dead ringer for the $55 Audio-Technica ATH-IM50 in-ear monitor (… and that's just for the earphones).
In a world full of fake news, spin, obfuscation, and brazen lies, where facts are mutable and doubt seeps into the crevices of life like rainwater, only one thing is certain: the earphone industry is a racket. A very big racket.
Global sales for audio headgear hit over $13 billion last year. That's a lot of cheddar. A lot of frayed wires too—compared to other stereo hardware, most earphones have an absurdly short lifespan. Planned obsolescence is the business model here: thin wire insulation and Y-splitters break, solder joints fail, even drivers blow (probably). Handle with care, use an umbrella, get lucky, and your earplugs might last nine months. Might. That's why frugal audiophiles steer clear of pricey IEMs. Like buying wine, the idea is to find value without cost.
But what is the dollar sweet spot for decent earphones? The conventional audio wisdom used to be that you had to drop $100 to enjoy legit dynamic range and detail. But thanks to factory automation, ingenious engineering, and cheap overseas parts and labor, the magic number keeps dropping. Not so long ago, $50 was the new retail benchmark. Of course, that was before hundreds of small Chinese companies disrupted the highly lucrative big brand earphone market by flooding it with surprisingly good and ridiculously inexpensive product. Tight-fisted audiophiles rejoiced.
KZ TO BE The Best Or Nothing
KZ, the brand name under which the Guangdong-based Shenzhen Yuanze Electronics Co. operates, was founded in 2008, making it a legacy brand by Chi-Fi standards. The founders are Keith Yue, a former Audio-Technica engineer, and Zen Li, a Western-trained classical musician.
The name KZ isn't just a nod to the founders' initials, but is also short for "Knowledge Zenith."
The company offers an impressive range of low-priced earphones that crib the form-factor from many moderately priced earphones offered by the mainstream brands. The KZ-ATE, for instance, is a dead ringer for the $55 Audio-Technica ATH-IM50 in-ear monitor.
Build and Comfort
Putting aside the pseudoscience and typos in their ad copy, the KZ boys pride themselves on their materials and build quality. That 32-strand low capacitance-oxygen-free copper (LC-OFC) cord, for instance, is the same one found on Ultimate Ears' fancy Pro series. The other thing that sets the KZ-ATE apart from most Chi-Fi is what headphone forum geeks call "strain relief." These are the subtle but vital design features that minimize the stress exerted on the cable. They prolong the life of the earphone by staving off the inevitable damage caused by the tugs and snags of daily life. From the springy "wrap" at the base of the 90-degree jack, to those two bouncy "boots" attached to the Y-splitter, to the knurled metal collars that actually extend into the smoky translucent housing, the KZ-ATE aces the strain relief test.
_______________
NOW THIS IS ME (JOHN BRADLEY) TALKING, TAKE THESE EARPHONES AND EMBED THEM IN DEEPSOUND EARBUDS AND YOU GET SOME IDEA OF WHAT THE FUSS IS ABOUT. IT TAKES THEM TO THE NEXT LEVEL.